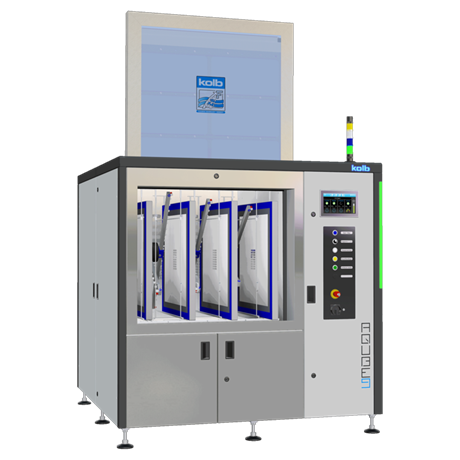 AQUBE® MV9 QUAD

The new kolb AQUBE® series offer next-generation cleaning systems - even more efficient, even more compact, easy to handle and maintain, pre-equipped for extended water management and cyber-physically ready for the smart factory (SF ready).
AQUBE® MV9 QUAD is the only batch system worldwide for process safe fine cleaning of four screens, stencils or PumpPrints in one cleaning cycle. It removes contaminations such as SMD-paste, SMD-adhesive and stabilizer materials. quickly and thoroughly. Ideally suited for large-scale productions with several stencil printers.
This system with its super-large process chamber can supply up to four printers every quarter hour with freshly cleaned and dried stencils or screens.
AQUBE® MV9 QUAD is a German engineered and manufactured machine with ClosedLoop water reprocessing and a two-tank and two separate circuits configuration which ensures short cycle times and makes this system the perfect economic choice for the cleaning of stencils.
The system is the perfectly suited for larger daily amounts of cleaning goods. For smaller quantities or fewer daily cleaning cycles, the kolb PSE 300 stencil mono-cleaning systems are often an even more efficient solution.
---
Highlights
Two tank system with two separate circuits
Digital Factory ready: DNAccess, remote control, traceability (PLC data scanning and memorizing)
Fully automatic 4step process: cleaning, MediumWipe®, rinsing, CWA® supercharger compression drying
Vertical PTFE mounted rotor system with eight asynchronous spray rotors for thorough wetting (no blind spots)
Short cycle times (approx. 4 min relative cleaning time per stencil / normal contamination) due to placing the cleaning goods close to the spray rotors
Water free operation possible with a suitable cleaning / rinsing detergent
Process and service intervals PLC controlled
Event issuing and software control via touch screen
Safe installation close to the production line / screen printer possible; no special protection required
EDGELESS Design and VARIccess® maintenance access: maximum capacity on a very small footprint